Branding Examples - Open Layouts
Open layouts incorporate the event title and date in the body of the landing page. They feature full-page background images and more options for placement of the registration form.
Note: In Title Top layouts, you can set a background color for the registration container (the box that holds the registration form and landing page content). Side-by-side layouts don't have a registration container; landing page content displays over the page background.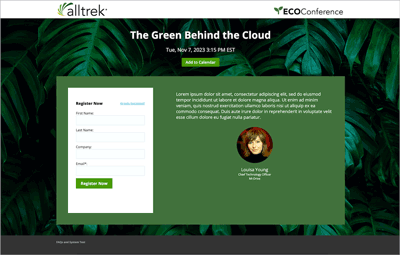 Visit these example events to compare different registration layouts, banners, colors, and background treatments. The events are branded for Alltrek.

Registration Layout
Registration Page Branding
Event Window Branding
Title Top, Right Registration with transparent banner
Left and right logos
Transparent banner shows page background
White registration form
White registration container
Page background with full-screen image
Slides, presenter video, custom player tab
Sponsor logos
Transparent player container shows page background
Dark green page background (#183200)
Title Top, Left Registration with a dark green registration container
Left and right logos on white banner
White registration form
Green registration container (#3A7821)
Page background with full-screen image
Slides, presenter video, custom player tab
Sponsor logos
Transparent player container shows page background
Player background with full-screen image
Side-By-Side, Right Registration with background image
Left and right logos on white banner
White registration form
White landing page text over dark page background
Page background with full-screen image
Slides, presenter video, custom player tab
Sponsor logos
White player container
Light green page background (#CDE9C8)
Side-By-Side, Left Registration with no banner
No banner (logos not uploaded)
White registration form
Black landing page text over light page background
Light green background color (#CDE9C8)
Slides and presenter video
Sponsor logos
White player container
Light green page background (#CDE9C8)
Video-only Event (no slides or content tabs)
Left and right logos on white banner
White registration form
White landing page text over dark page background
Page background with full-screen image
Presenter video
Sponsor logos
Transparent player container shows page background
White page background