Branding Examples - Bar Layouts
Bar layouts feature the event title and date prominently in colored bars across the landing page. They offer one- and two-column layouts that set the structure of the landing page and placement of the registration form.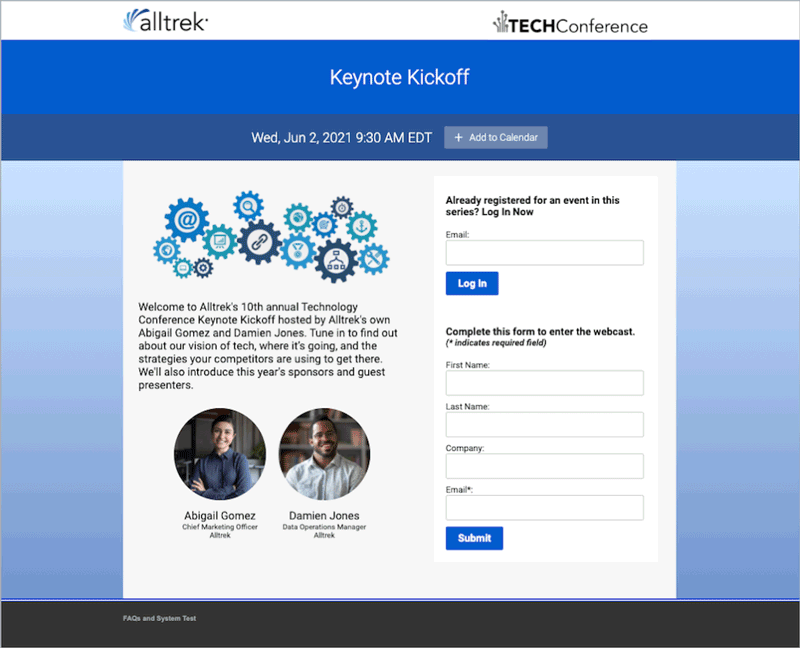 Visit these example events to compare different registration layouts, banners, colors, and background treatments. The events are branded for Alltrek and Reynholm Industries.


Registration Layout
Brand
Registration Page Branding
Event Window Branding
One Column with background image
Alltrek
Left and right logos on white banner
Light gray registration container (#F7F7F7)
Page background with gradient image
Slides and presenter video
Sponsor logos
White player container
Light blue page background (#CBE2FE)
One Column with transparent banner
Alltrek
Left and right logos
Transparent banner shows page background
Light gray registration container (#F7F7F7)
Light blue page background (#CBE2FE)
Slides and presenter video
Sponsor logos
Transparent player container shows page background
Light blue page background (#CBE2FE)
One Column with background color
Reynholm Industries
Left banner logo on white banner
Transparent registration container shows page background
Light yellow page background (#FCF7C5)
Slides, presenter video, custom player tabs
Sponsor logos
White player container
Light yellow page background (#FCF7C5)
One Column with background image
Reynholm Industries
Left banner logo on white banner
Transparent registration container shows page background
Transparent background image with blue circles shows page background
Light yellow page background (#FCF7C5)
Slides, presenter video, custom player tabs
Sponsor logos
Transparent player container shows page background
Uses registration page background image and color
Two Column with transparent registration container
Alltrek
Left and right logos on white banner
White registration form
Transparent registration container shows page background
Dark blue page background (#004491)
Slides, presenter video, custom player tab
Sponsor logos
White player container
Dark blue page background (#004491)

Two Column with white registration form
Alltrek
Left and right logos on white banner
White registration form
Light gray registration container (#F7F7F7)
Page background with gradient image
Slides, presenter video, custom player tab
Sponsor logos
White player container
Light blue page background (#CBE2FE)
Two Column with blue registration form and background color
Reynholm Industries
Left banner logo on white banner
Light blue registration form (#96B9D9)
Transparent registration container shows page background
Light yellow page background (#FCF7C5)

Slides, presenter video, custom player tabs
Sponsor logos
White player container
Light yellow page background (#FCF7C5)

Two Column with blue registration form and background image
Reynholm Industries
Left banner logo on white banner
Light blue registration form (#96B9D9)
Transparent registration container shows page background
Transparent background image with blue circles shows page background
Light yellow page background (#FCF7C5)
Slides, presenter video, custom player tabs
Sponsor logos
Transparent player container shows page background
Uses registration page background image and color
Two Column with transparent banner and background color
Reynholm Industries
Left and right logos
Transparent banner shows page background color
Transparent registration container shows page background
Light yellow page background (#FCF7C5)
Slides, presenter video, custom player tabs
Sponsor logos
White player container
Light yellow page background (#FCF7C5)
Two Column with transparent banner and background image
Reynholm Industries
Left and right logos
Transparent banner shows page background color
Transparent registration container shows page background
Transparent background image with blue circles shows page background
Light yellow page background (#FCF7C5)
Slides, presenter video, custom player tabs
Sponsor logos
Transparent player container shows page background
Uses registration page background image and color
Popup Registration
Alltrek
Left and right logos on white banner
White registration form can't be changed
Light gray registration container (#F7F7F7)
Page background with gradient image
Slides, presenter video, custom player tabs
Sponsor logos
White player container
Light blue page background (#CBE2FE)
Popup Registration with background color
Reynholm Industries
Left banner logo on white banner
White registration form can't be changed
Transparent registration container shows page background
Light yellow page background (#FCF7C5)
Slides, presenter video, custom player tabs
Sponsor logos
White player container
Light yellow page background (#FCF7C5)
Popup Registration with background image
Reynholm Industries
Left banner logo on white banner
White registration form can't be changed
Transparent registration container shows page background
Transparent background image with blue circles shows page background
Light yellow page background (#FCF7C5)
Slides, presenter video, custom player tabs
Sponsor logos
White player container
Uses registration page background image and color
Video-only Event (no slides or content tabs)
Alltrek
Left and right logos on white banner
White registration form
Light gray registration container (#F7F7F7)
Page background with gradient image
Presenter video
Sponsor logos
White player container
Light blue page background (#CBE2FE)