Webcam broadcasts - Stream not connecting
This troubleshooting article addresses issues related to connecting the webcam stream to the event.
Issue
You're a moderator and you connect the webcam stream, but it doesn't connect so that you can start the event. The connecting screen displays the video player, but your webcam stream is never connected.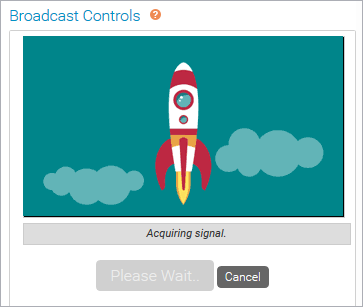 Resolution
If the webcam stream won't connect:
Make sure your system meets the minimum system requirements
Make sure you meet the network requirements for Webcam broadcasts in the Webcast Presenters - Video Events column
In the Broadcast Controls panel, click Cancel, make sure an audio and video source has been selected, and reconnect the stream
Use a wired internet connection
Disconnect from the VPN
Install the latest version of your webcam driver
When you join the Live Studio, make sure your browser is allowing the Live Studio to access your webcam and microphone.
To allow your browser access to your camera and microphone:
At the top of the Live Studio window, to the left side of the web address, click the Lock button.
If you still can't connect your webcam stream, close any programs that could be using your webcam and microphone and make sure none of these programs are running in the background.
Still need help? Contact Support for assistance.