Request professional services (Essential, Professional, and Enterprise plans)
If you purchased an Essential, Professional, or Enterprise webcast plan, you can request additional features, event management services, and transcription services for your event.
You can request:
An event production manager to book your event and to provide training, best practices, and in-event assistance
A professional audio or video emcee to host your event. Available for video bridge events only.
Additional training for new presenters
Real-time captions and event transcripts in multiple languages
Increased audience capacity
A phone bridge to let viewers dial in to the event and listen to the event on their phones
For detailed information about each option, click the info button on the Professional Services Request site form or check the webcast feature summary.
Before you begin
You must create and schedule your event before requesting professional services and enhancements. Make a note of the client ID found in your welcome email and the event ID found in your new webcast confirmation email. You will also need to know the event type, the telephone or video broadcast type, and the estimated participants you scheduled for the event to complete your request.
To request professional services:
Go to the Professional Services Request site and under Request Event Services, click Book Now.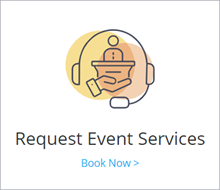 After you submit your request, an event production manager will contact you within 48 hours to confirm the event details.