How do I create an On-Demand event?
Click Create New Event in the top left of the admin tool to begin. Select On-Demand as your Event Type and fill in the required information. On-Demand events require an Event Name, Duration, and a Media Type to be defined. Select Audio or Video as your Media Type. Click Create Event at the bottom of the page to proceed with the setup process.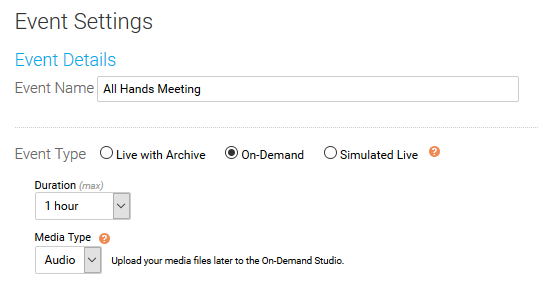 The media, slides, and other content are uploaded on the Event Content page of the setup. The primary content for the presentation needs to be uploaded as the Primary Media Clip. Once the setup is complete, use the On-Demand Studio to assemble, review and publish the content for the presentation. Once published, open access to viewers in the Manage Access section of the Event Summary page to allow viewers to begin viewing.
Review the On-Demand Studio section for detailed instructions on setting up On-Demand events.